Refer below for an explanation on
various elements of the members list.
THE MEMBERS LIST EXPLAINED
Below is a list of ZNoD administrators, moderators and members.
Here you can view various details about each member and what
platforms they use. Read this tutorial to learn about the ranking
system and how to view member gamertags for each platform.
NEXT SLIDE
FOR MORE




THE RANKING SYSTEM
Medals are awarded based on three factors and determine
a member's position in the list below. A higher position has
increased chances of winning raffles when held. The three
factors in order of importance are rank, tier and honor.
1 / 10
RANK




Rank is determined by how often a member plays online with other
members and their level of contribution to the group such as posting
in the forum or social pages, organising events, etc. The three types
of ranks, listed form low to high are: Bronze, Silver, Gold and Blood.
2 / 10

TIER





Tiers are determined by the amount of ZNoD content a member has
joined or subscribed to. Members can increase their tier by joining
or subscribing to the ZNoD forum, Facebook group, Steam group,
YouTube channel and Google+ page. The highest available tier is 3.
3 / 10

HONOR








The 'honored' class is determined by an award or achievement. A
few examples of these awards and achivements are 'long service',
'top contributor' and 'most dedicated'. If a member is a co-founder
of the group they will gain the 'honored' class by default.
4 / 10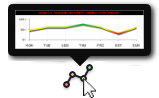 ONLINE ACTIVITY GRAPHS
Hover over or tap on an Activity Graph icon to view a
graph outlining which days a member is commonly online
throughout the week. Members who don't use Teamspeak
won't have a graph as activity is tracked via the server log.
5 / 10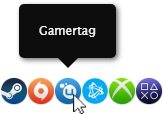 PLATFORM PROFILES
platform they own. To view a members gamertag just
hover over or tap on the relevant platform icon.
Alongside each member is a section called Platform Profiles.
In this section you can view members' gamertags for each

6 / 10





PROFILE LINKS
Platform icons with a hyper-link symbol above them will
send you to the relevant members profile page for the
selected platform. To view the members gamertag only,
hover over or long-press the relevant platform icon.
7 / 10






UNKNOWN PROFILE
Platform icons with a question mark above them state
that the member has a profile on the relevant platform but
is currently unknown. Any members who have unknown
platform(s), please supply an admin with your gamertag.
8 / 10






NO PLATFORM PROFILE
Platform icons that are greyed-out and transparent
indicate that the member does not own the platform,
have a profile associated with it or has requested for
their gamertag to not be disclosed.
9 / 10
HORIZONTAL SCROLL
When viewing the page on either a tablet or mobile you are
able to scroll the table horizontally to view the hidden content.
Once the table is scrolled to the far right you can hover over or
tap an avatar to see which member corresponds to that line.
10 / 10
SCROLL RIGHT FOR MORE MEMBER DETAILS ►►
GAMERTAG

NAME

RANK

TITLE

GRAPH

PLATFORM PROFILES

RAZOR
Ray
Founder & head
administrator.
STINGTWO
Scott
Hosting & assistant
administrator.
VALKYRIAN
Brian
Co-founder &
Xbox moderator.
ACKRON AIR
Max
Hosting &
dedicated member.
PATLOAF
Patrick
Active member.
ZEDMCGEE
Simon
Active member.
REVEX
Dean
Active member.
STRELOK
KRIEGER
Shaun
Active member.
TONKA
Kurt
Active member.
ALEX
Alex
Active member.
AZRAEL
Blake
Active member.
INTER
Jimmy
Active member.
POTMAN
Brendyn
Casual member.
PANTONIOUS
Michael
Casual member.
SLIPPY
Daniel
Casual co-founder.
WINDOW
LICKER
Rick
Casual member.
METAL
MOTHMAN
Robert
Casual member.
REAPER
David
Casual member.
LUNCHBOX
Jody
Casual member.
JAYRAD
Jarrad
Casual member.
PONYBOI
Pony
Casual member.
AZMAN
Adam
Casual member.
FEACHRS
Kirk
Casual member.
TRIDDY
Tristen
Casual member.
DRIFTOR
James
Casual member.
AZZBORG
Aaron
Founder.
Always remembered,
never forgotten!'
SCROLL RIGHT FOR MORE MEMBER DETAILS ►►